Introduction to Croatia's Top Destinations
Croatia, located in Southeast Europe, is a country known for its stunning natural beauty, rich history, and vibrant culture. With a diverse range of landscapes, from the crystal-clear waters of the Adriatic Sea to the lush greenery of its national parks, Croatia offers something for every traveler. Explore Top Destinations to Explore Croatia!
This article will take you on a journey through Croatia's top destinations, showcasing the unique attractions and experiences each has to offer. From the medieval city walls of Dubrovnik to the bustling streets of Zagreb, you will discover the charm and beauty that make Croatia a must-visit destination.
Whether you're passionate about history, adore nature, or just crave beach relaxation, Croatia caters to all. Discover ancient Roman ruins in Split, marvel at cascading waterfalls in Plitvice Lakes National Park, and enjoy the sun on picturesque Hvar Island.
Join us as we delve into the wonders of Croatia's top destinations and uncover the magic that awaits you in this enchanting country.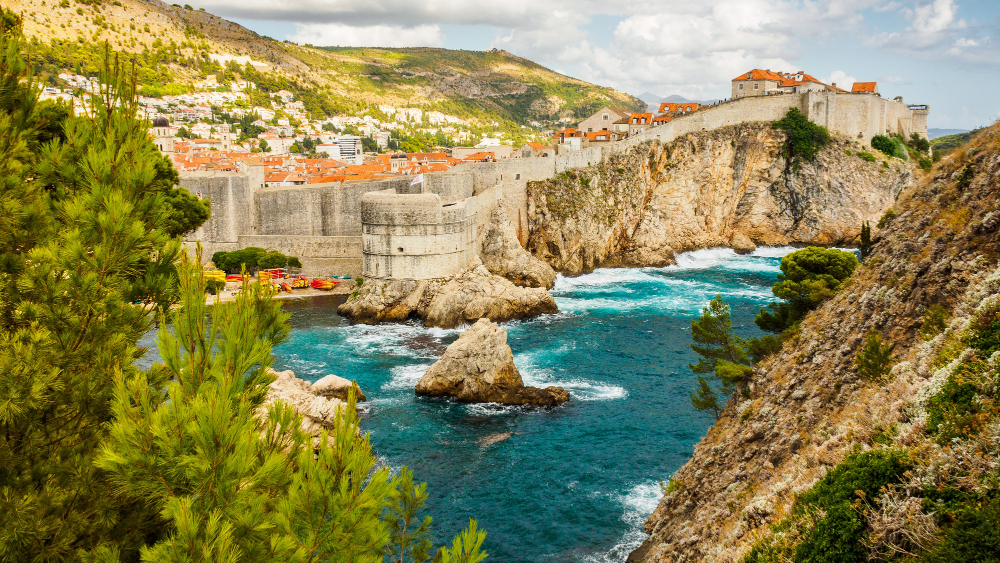 Dubrovnik: The Pearl of the Adriatic
Dubrovnik, often referred to as the Pearl of the Adriatic, is a stunning coastal city located in southern Croatia. With its picturesque old town, fortified walls, and breathtaking views of the Adriatic Sea, it is no wonder that Dubrovnik has become one of the top tourist destinations in the country.
Dubrovnik's history shines in well-preserved medieval architecture like the iconic City Walls, boasting panoramic views. Explore narrow streets, and historic sites, or relax in charming cafes.
Dubrovnik is also known for its vibrant cultural scene, with numerous festivals and events taking place throughout the year. From the Dubrovnik Summer Festival, which showcases music, theater, and dance performances, to the Dubrovnik International Film Festival. There is always something exciting happening in the city.
For those seeking outdoor adventure, Dubrovnik offers plenty of options. Swim, sunbathe on beautiful beaches, kayak city walls, or take a boat trip to the Elaphiti Islands—countless activities await.
Overall, Dubrovnik is a must-visit destination for its stunning beauty, rich history, and vibrant culture. History buff, nature lover, or seeking relaxation? Dubrovnik has something for everyone on its coastal getaway.
Split: A Perfect Blend of History and Modernity
Split, situated on the Adriatic's eastern shore, seamlessly blends history and modernity. A top Croatian destination, it offers a unique experience with stunning architecture, a rich history, and a vibrant atmosphere.
One of the main attractions in Split is the Diocletian's Palace, a UNESCO World Heritage Site. Built in the 4th century by the Roman emperor Diocletian, the palace is a remarkable example of Roman architecture and is a must-visit for history enthusiasts. Within the palace walls, visitors can explore narrow streets, ancient buildings, and charming squares.
Aside from its historical significance, Split also offers a modern and lively atmosphere. The city is filled with trendy cafes, bars, and restaurants where visitors can enjoy delicious Croatian cuisine and local wines. The Riva, Split's waterfront promenade, is a popular spot for locals and tourists alike to relax, enjoy a drink, and soak in the beautiful views of the Adriatic Sea.
Whether history, culture or a vibrant atmosphere piques your interest, Split offers something for everyone as a destination.
Plitvice Lakes National Park: A Natural Wonder
Plitvice Lakes National Park is a true natural wonder and one of Croatia's most iconic destinations. Situated in the mountainous region of Lika, this national park gains renown for its stunning lakes, cascading waterfalls, and lush greenery. The park encompasses 16 interconnected lakes, celebrated for vibrant colors spanning from azure to emerald green. These lakes form through a series of natural dams and travertine barriers, crafting a distinctive and picturesque landscape.
At Plitvice Lakes National Park, visitors explore via footbridges and trails for up-close views of waterfalls and crystal-clear lakes. The park's rich biodiversity includes rare species like brown bears, wolves, and lynx.
Whether you're a nature lover, a photography enthusiast, or simply seeking a peaceful escape, Plitvice Lakes National Park is a must-visit destination in Croatia. Its natural beauty and tranquility make it a perfect place to immerse yourself in the wonders of the great outdoors.
Hvar: The Sunniest Island in Croatia
Hvar is a picturesque island located in the Adriatic Sea and is known as the sunniest spot in Croatia. With its crystal-clear turquoise waters, stunning beaches, and vibrant nightlife, Hvar is a popular destination for tourists from all over the world. The island is famous for its lavender fields, vineyards, and olive groves, which add to its natural beauty.
In Hvar, the historic town boasts charming cobblestone streets, medieval buildings, and a majestic fortress. Explore its rich history through attractions like Hvar Cathedral, Franciscan Monastery, and Hvar Theatre.
In addition to its historical sites, Hvar offers a wide range of outdoor activities for nature lovers. From hiking and biking to sailing and kayaking, there are plenty of opportunities to explore the island's natural wonders. The Pakleni Islands, located just off the coast of Hvar, are a popular spot for swimming, snorkeling, and sunbathing.
With its stunning landscapes, rich history, and vibrant atmosphere, Hvar is a must-visit destination for anyone traveling to Croatia.
Zagreb: The Vibrant Capital City
Zagreb, the capital city of Croatia, is a vibrant and bustling metropolis that offers a perfect blend of history, culture, and modernity. With its charming old town, beautiful architecture, and lively atmosphere, Zagreb is a must-visit destination for travelers.
The city is divided into two parts: the Upper Town and the Lower Town. The Upper Town is the historic heart of Zagreb, with its cobblestone streets, medieval buildings, and iconic landmarks such as St. Mark's Church and the Lotrščak Tower. Here, visitors can explore the city's rich history and soak in the old-world charm.
In contrast, the Lower Town is where the modern side of Zagreb comes to life. This part of the city is filled with trendy shops, chic cafes, and vibrant nightlife. Visitors can stroll along the bustling streets, visit the museums and galleries, or simply relax in one of the many parks and green spaces.
Zagreb also hosts numerous cultural events and festivals throughout the year, showcasing its vibrant arts and music scene. From classical concerts to contemporary art exhibitions, there is always something happening in this lively city.
Overall, Zagreb offers a unique and captivating experience for travelers, combining history, culture, and modernity in a vibrant urban setting.
Istria: A Charming Region with a Mediterranean Flair
Istria is a captivating region in Croatia that exudes charm and a distinct Mediterranean atmosphere. Located in the northwest part of the country, Istria is known for its picturesque coastal towns, lush green landscapes, and rich cultural heritage. The region offers a perfect blend of natural beauty, historical sites, and delicious cuisine.
One of the highlights of Istria is its stunning coastline, dotted with charming fishing villages and beautiful beaches. Visitors can explore the narrow streets of towns like Rovinj and Pula, admiring the colorful buildings and ancient Roman architecture. The region is also home to numerous vineyards and olive groves, producing some of the finest wines and olive oils in Croatia.
Istria is also a culinary paradise, offering a wide range of traditional dishes that showcase the region's fresh ingredients and Mediterranean influences. Visitors can indulge in seafood delicacies, truffle-infused dishes, and Istrian prosciutto, accompanied by a glass of local wine.
Istria's captivating beauty, rich history, and delicious cuisine make it a must-visit for authentic Mediterranean experiences in Croatia.
Let's explore more about Tour and Travel, Click Here!